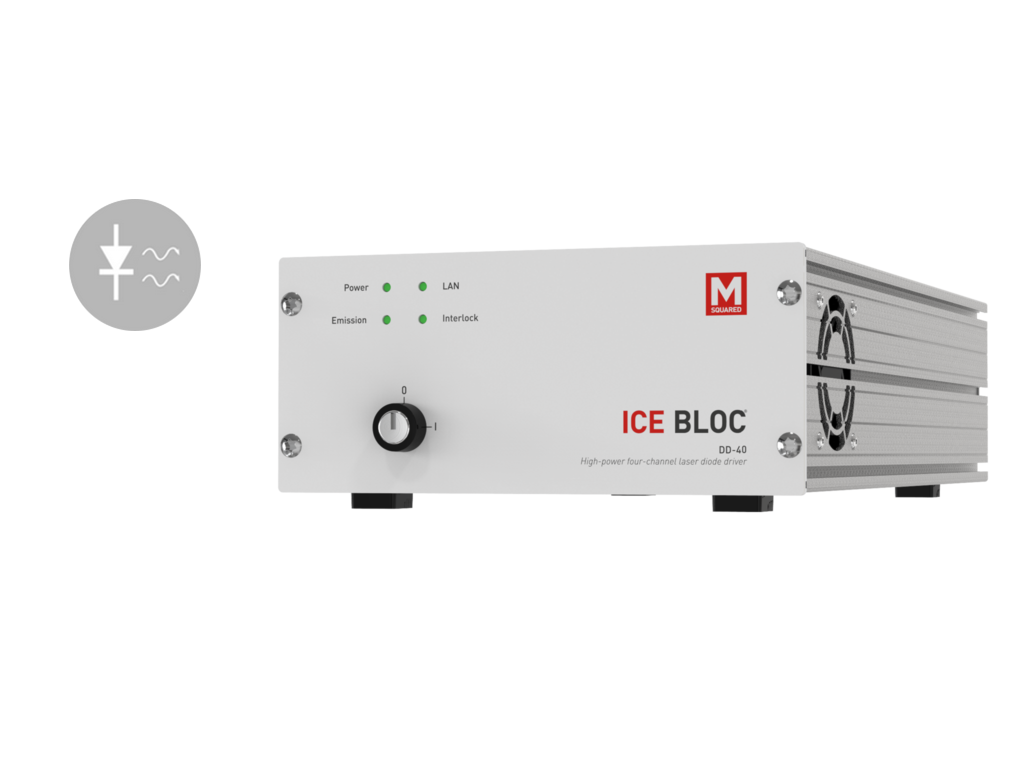 Click here for the datasheet
DD40: High-Power Laser Diode Driver
Have any questions or need a quote?
Enter your details below and we will be in touch within 24 hours.
Features
Available with 1 to 4 independent channels
Up to 40A per channel
Analogue and photodiode monitor inputs
Constant optical power mode
Drive modulation inputs
Web-based interface
Ethernet connectivity
Click here for the datasheet
Overview
Ice Bloc DD40 is a high-power, precision laser diode driver - available with a choice of 1 to 4 independent channels-designed to help you build laser-based photonic systems for research, experimental and production applications.
Driving the latest generation of high power laser diodes, the DD40 combines high current (up to 40A), low noise output with high accuracy and high-resolution current set points. Its compact form factor with customisable software interface allows easy integration of the DD40 into experiments or OEM setups
Specifications
| DIODE DRIVER |   |
| --- | --- |
| Output current range (per channel) | 0 - 40 A |
| Output compliance voltage range | 0.8 - 5 V |
| Maximum output power | 250 W across all four channels |
| Total output noise | <0.02 % at 40 A |
| Current setting resolution | 1 mA |
| Current accuracy | ±2 % |
| Current temperature stability | 50 ppm/°C |
| MODULATION |   |
| --- | --- |
| Input sensitivity | 1 A/V |
| Modulation range | ±3.2 A around the set point |
| Modulation frequency response | DC – 10 kHz |
| Input impedance | 10 kΩ |
| Input resolution | 24 bits |
| Maximum safe input | ±20 V |
| Monitor input linear range | ±4 V |
| PHOTODIODE |   |
| --- | --- |
| Input impedance | 20 Ω (transimpedance) |
| Transimpedance gain range | 80 V/A – 20 k V/A |
| Maximum safe input | ±5 V (protected) |
| Input linear range | ±10 mA |
| Input resolution | 24 bits |
| AUXILIARY I/O |   |
| --- | --- |
| Interlock |   |
| Open circuit voltage | 3.3 V |
| Closed maximum resistance | 3 kΩ |
| Maximum safe input voltage | ±10 V |
| Emission LED |   |
| Output voltage | +5 V |
| Current limiting resistance | 620 Ω |
| GENERAL |   |
| --- | --- |
| Mains input voltage | 100-240 V AC, 50/60 Hz, 350 VA (typical power: 15 W) |
| Size (W x H x D) | Half rack (203 mm) x 2U (89 mm) x 345 mm (8" x 3.5" x 13.6") |
| Weight | 4.1 kg |
| Operating temperature | 0 °C to 70 °C |
| Storage temperature | 20 °C to 85 °C |
| Relative humidity | <90 % humidity, non-condensing |
| Indoor/outdoor use | Indoor use only |
| Altitude | <2000 m |