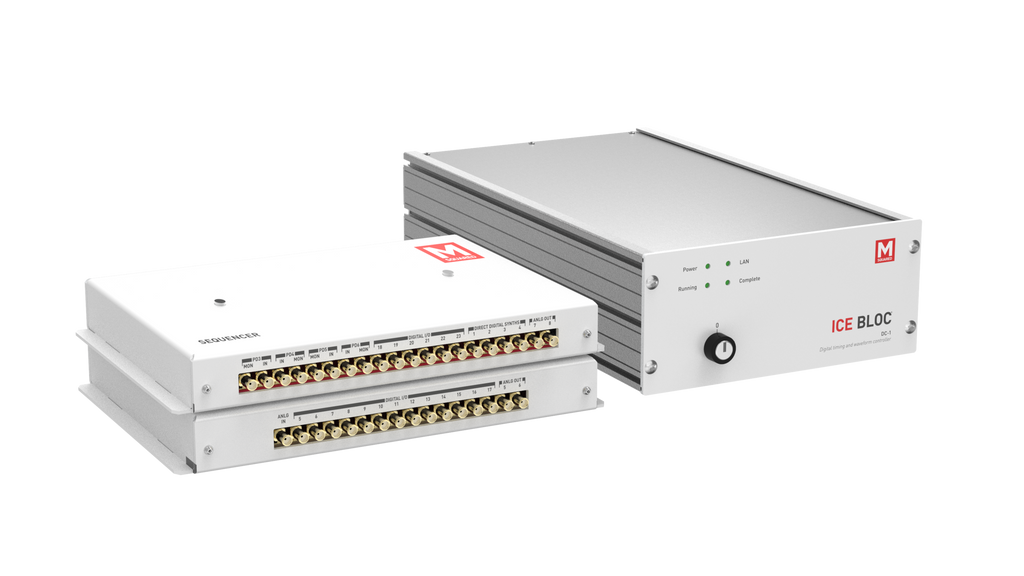 Click here for the datasheet
DCS: Digital Timing Controller & Synthesiser
Have any questions or need a quote?
Enter your details below and we will be in touch within 24 hours.
Features
Full control of Cold Atom and Quantum Technology experiments
FPGA with 4 Channel DDS architecture
Precision waveform generation and timing control up to 240MHz
Drives up to 2 customisable experiment I/O boxes
Flexibility in analogue and digital channels
Full laser control of multiple beams
Reconfigurable and upgradable through software updates
Click here for the datasheet
Overview
Ice Bloc DCS is a highly versatile sequencing system with multiple high-speed digital I/O, photodiode inputs, analogue outputs and a 4-channel digital synthesiser. Capable of running sequences from start to finish or in a continuous loop, the DCS is ideal for the control of cold atom experiments. Its compact form factor with customisable software interface allows easy integration with your experiments or OEM setups.
| SEQUENCE CAPABILITIES |   |
| --- | --- |
| Number of sequence engines | 8 |
| Instruction memory | 1024 steps |
| Sequence step rate | 75MHz |
| DIGITAL I/O |   |
| --- | --- |
| Number of channels and connector type | 19 SMA (plus 4 MCX on Ice Bloc) |
| High level output | +5 V TTL |
| Maximum safe input | +5 V TTL (protected) |
| Digital pulse rise/fall time | 10 ns |
| Minimum digital pulse-length | 23 ns |
| Channel synchronicity | No measurable deviation between channels |
| Required instruction steps | Each read/write is 1 step |
| ANALOGUE OUTPUTS |   |
| --- | --- |
| Number of channels and connector type | 4 SMA (plus 4 MCX on Ice Bloc) |
| Voltage range | 0 V to +10 V |
| Ramp rate | 2.4 V/μs |
| Resolution | 16 bit |
| Waveform capabilities | DC; linear ramp |
| Required instruction steps | Each read/write is 1 step |
| ANALOGUE INPUTS |   |
| --- | --- |
| Number of channels and connector type | 1 SMA (not yet implemented in software) |
| Sample rate | 1 MSPS |
| Resolution | 2 bit: 1.2 mV at analogue input |
| Input voltage range | 0 V to +5 V |
| PHOTODIODE TRIGGER INPUTS |   |
| --- | --- |
| Number of channels and connector type | 4 SMA with monitor outputs (plus 2 MCX on Ice Bloc) |
| Bias control | 0 V to +5 V via 1 kΩ to SMA centre pin |
| Maximum safe input | +5 V |
| Required instruction steps | Each read is 1 step |
RF OUTPUTS (DDS)
 
Number of channels and connector type
4 SMA (plus 2 MCX low power (< 30mW) on Ice Bloc)
Generated frequency range
1 MHz to 240 MHz
Minimum frequency step size
1 kHz (software update required)
Minimum amplitude step size
0.1 %
Amplitude step rise/fall time (0 to 100 %)
5.8 μs setup time; 10 ns measured rise time
Sweep capabilities
Amplitude sweep (frequency sweep not yet implemented)
Maximum output power (SMA connectors only):
900 mW ±5 % @ 1 MHz
850 mW ±5 % @ 10 MHz
750 mW ±5 % @ 50 MHz
700 mW ±5 % @ 100 MHz
500 mW ±5 % @ 150 MHz
Required instruction steps: Set frequency: 10 steps, Set amplitude: 18 steps, Sweep:18 steps
| GENERAL |   |
| --- | --- |
| Mains input voltage | 100 - 240 V AC, 50/60 Hz, 350 VA (Typical power: 30 W with 2 sequencers) |
| Ice Bloc size (W x H x D) | Half rack 203 mm x 2U 89 mm x 345 mm (8" x 3.5" x 13.6") |
| Breakout unit size (W x H x D) | Sequencer 275 mm x 33.5 mm x 125 mm |
| Ice Bloc / Breakout unit weight | kg |
| Operating temperature |   |
| Storage temperature | -20 °C to 85 °C |
| Relative humidity | <90 % humidity, non-condensing |
| Indoor/outdoor use | Indoor use only |
| Altitude | <2000 m |